Because of the COVID-19 virus we have temporarily suspended our typical adoption activities but certainly want to keep finding our cats loving homes when possible. If you would like to be considered as a Foster to Adopt candidate, please complete an adoption application at /home/adoption-application/. Each application is considered for approval on a case by case basis.
While technically not kittens anymore, these kitties are definitely still kids. Their bottomless energy stores combined with their love of toys make them the biggest stars of our Adoption Events.
---
Sausage, Female, Born 2019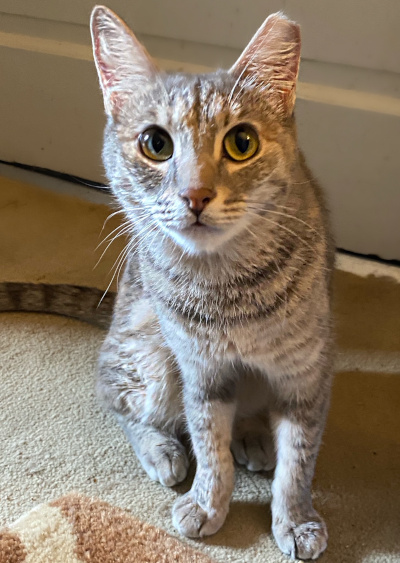 She came from Kabul, Afghanistan with that name! Sausage is still working on being held and lap sitting for longer periods but she likes to be petted, and she head and nose butts if you ask for a kiss and she'll rub up against you. You may also find her next to you on the couch. She has a very loud voice so she's been working on whispering instead of yelling when it's time to eat. Sausage likes other cats but we don't know about dogs. She's a very active, interactive, and sweet youngster who loves to scratch on her post. She still has some work to do but the right adopter can help Sausage become an even more lovely companion. She has an estimated birthday in September 2019.
---
Juli, Male, Born 2018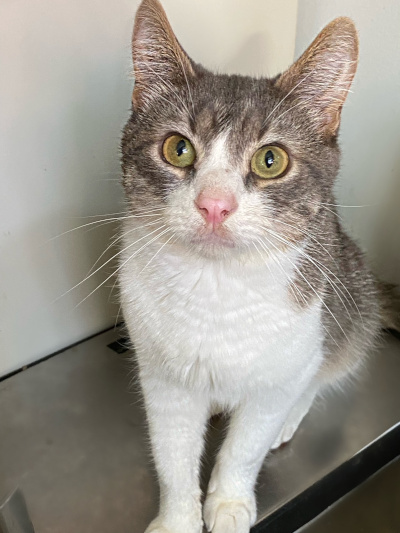 Everyone thinks Juli is a girl but really, it's just that the shelter left the "us" off the end of his name! He's a loveable character who purrs in a second. Juli loves hugs and may even reach for you to hold him if you're close enough to him.
---
Garfield, Male, 3 Years Old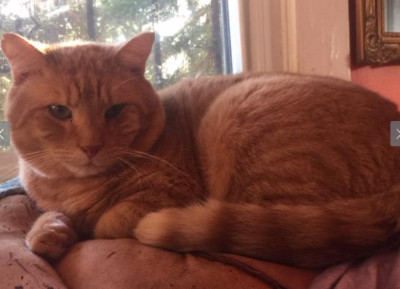 checking out a new family
Garfield is just a few years old and came to us after he too showed up at a feral colony with a paw injury. Poor guy had to have a toe amputated when he got neutered but he's no worse for the wear. He's a cat's cat and loves the companionship of the others. He's grateful for the meals and always head bonks the plate of wet food as it is being put down to say thank you. He can be a bit shy at first but warms up after a while. He loves looking out windows and taking naps in the best sunny spots!
---
Harbour, Female, 3 Years Old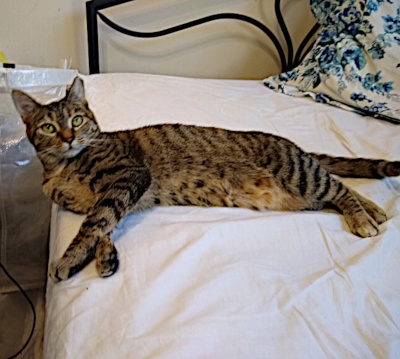 checking out a new family
Harbour is a sweet young green eyed brown tabby girl approx 3 years old. She can be shy at first but once she trusts you she's a happy baby and loves back scritches and chin rubs and even belly rubs (really). She loves DaBird, the laser light and climbing the tall cat tree. She loves the company of other kitties too.
---
Bear, Male, Born April 2018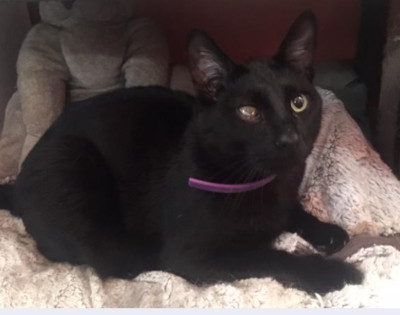 Bear was born in a bathtub as part of a trio litter of kittens to a feral mom and hand raised by a cat rescuer who wanted him to have an opportunity for a forever home of his own. His right eye had trauma from an infection when he was young but he still can see out of it and so the vets advised best to keep it (and there has not been any medical concerns with it). He's a playful boy who loves the laser light and wand toys and loves to be picked up and held like a baby on his back. He is a gentle soul and even loves belly rubs and kisses. He loves other kitties and often head bonks to greet the others.
---
Mrs. Frisby, Female, 4 Years Old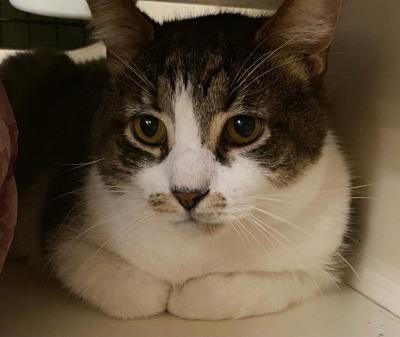 checking out a new family
Mrs. Frisby came to us after having lived a few years on the campus of NIH until she had an injury and required to be indoors to heal. She is about 4 years old and loves other kitties and is often seen snuggling in the basket with fellow Tails High kitty Casey who is just a few years older. Mrs. Frisby loves looking out windows, chin and head scratches and especially loves her friskies wet food.
---
Mega, Male, 4 Years Old
Mega is a 4 year old male kitty who you may have noticed is cross eyed (doesn't cause him any issues). Mega lost his home this past year when the pandemic hit. He doesn't like to be picked up but he loves to snuggle, follow you around and will cuddle with you and give you kisses and be your new best friend. He loves to play with the laser light, wand toys and especially is bonkers for Temptation treats. Mega is a creature of habit and while he does well with the company of other cats, he also wants to have a human of his own to love on. He will beckon you over for head bonks to say I love you and will greet you once he gets to know you. He can be a little clumsy and falls off his cat perch on occassion but always recovers with dignity.
---
Meringue, Female, Born August 2015
Meringue has had a long journey with Tails High since she came to us as a small kitten. A couple of years ago she began limping and needed extensive knee surgery which she has successfully recovered from. She loves cuddling and is a very sweet girl. She and her fellow foster friend, Elby, really enjoy each other's company and would love to find a home together if possible.
---
Zoe, Female, Born 2015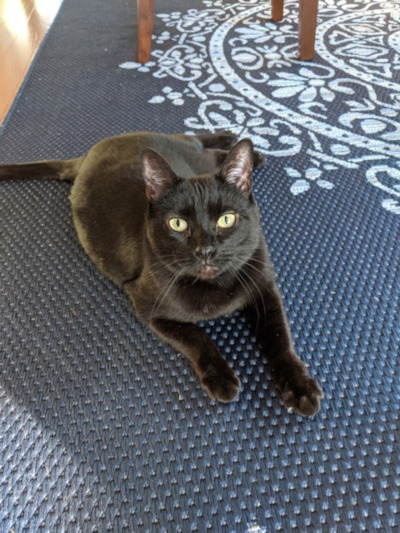 Meet Zoe! Zoe is about six years old and very affectionate. In spite of being nervous at her new surroundings when she came to her current foster home, she would still crawl out from under the bed just to get petted – a true love bug! Now that she has had some time to acclimate, she enjoys playing with the laser pointer and dangly toys and she spends hours watching the birds from the windows. Sometimes she gets the zoomies and runs back and forth which is always entertaining to watch. Zoe is chatty but polite with a wide vocabulary of quiet chirps, meows, and "mrrup" noises. She has beautiful green eyes and soft black fur that doesn't seem to shed much. She greets people by rubbing her head against theirs when she can get in the right position on the couch or in bed. She's not all that excited about being held for more than a few seconds, but she will happily settle onto a quiet lap for some kneading and a quick nap.
---
Porter, Female, Born 2015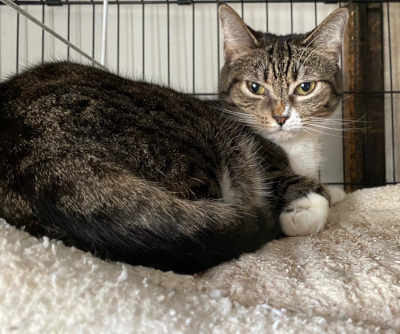 Porter came to Tails High a very scared mommy cat with her babies but she has made a lot of progress with her foster mom over time. She can still be a bit quite cautious but she loves pets.   Porter will need a cat experienced adopter to give her the love and patience she needs. We know she will be a fantastic companion who will continue to flourish in the right home. Porter gets along well with other cats and would be happy to join other kitties in her forever home. Porter is not a good first cat and will not do well with young children. We expect she will not appreciate dogs.
---
Tempest (Female) & Little Squeak (Male), Young Adult
checking out a new family
Tempest & Little Squeak are a pair of bonded siblings who currently live outdoors, but have admitted to being indoor-curious. Tempest is a tiny little tortie with lovely green eyes who is the shyer of the pair. She will want to see what it is you are doing and likes to be close by. Little Squeak is white and buff, also with lovely green eyes, who makes up for Tempest's shyness by being friendly and outgoing with everyone he meets. He will run up and ask for rubs, stand on your feet to prevent you from leaving before he's had enough rubs, will grab your hand with his paws to ask for more rubs, and has been known to ignore food in order to, you guessed it, get more rubs. Like Tempest, he will want to see what it is you are doing, but unlike Tempest he will also want to get involved. Expect to find both cats following you from room to room to see what is going on. They will come running when called, and will greet you with squeaks when it's time for food. Little Squeak and Tempest love to play – they will wrestle and chase each other about; Tempest goes bonkers for the laser light, and Little Squeak loves to chase string. They have proven to be adaptable to new situations, and with the right introduction may get along with dogs. Tempest and Little Squeak are a bonded pair who need to be adopted together – if separated for even a short while they will greet each other with head bonks and purrs, and can often be found cuddled together. They will do best in a home without young children.
---
BB (Male) and Luna (Female), Bonded Pair, 3 Years Old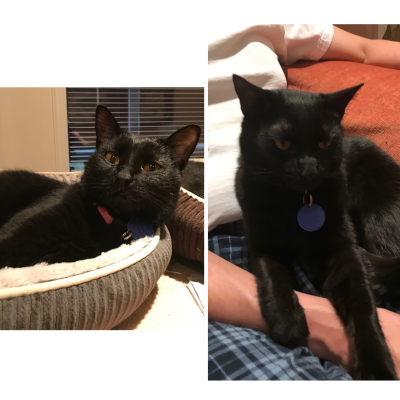 checking out a new family
This is a story of 3-year-old bonded male and female siblings abandoned by their caretakers. The family moved and rather than taking the cats with them, they just left thinking someone else would care for them. BB, and his sister Luna are beautiful black cats that have sleek glossy coats that complement their bright shining eyes. They are stunning, regal looking animals – each one an individual. They are amazingly friendly. They approached strangers with ease…wanting nothing more than a little love and affection. They love to be petted and to hang out with people. On a recent visit from our nieces 6 and 8, the cats snuggled up with the girls to watch a movie. BB and Lunda are comfortable sitting with you or finding a cozy warm spot on your lap, and are longing to be with a permanent family of their own. The cats are currently in temporary foster care and have adjusted from the early days of being petrified, with their world turned upside down, and barely eating. Both rescue cats are neutered and spayed, front declawed, vaccinated, microchipped and have been treated for fleas and worms. Being declawed, BB and Luna are in-door cats only.
---
Casey, Male, 7 Years Ikd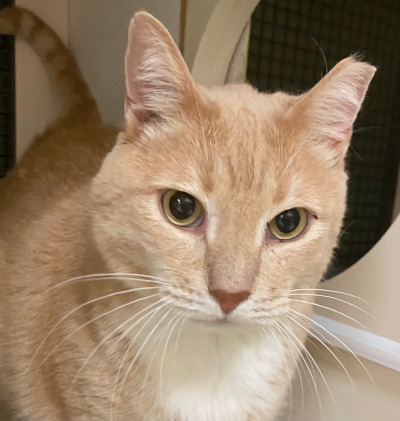 checking out a new family
Casey came to us after showing up at friend's feral colony but of course he wasn't feral at all. He's an old soul and a cat's cat. Everyone loves Casey and Casey loves everyone. He loves to sit on your lap and literally hugs you when you pick him up. He's a big guy but he's a spry one and can still climb the cat tree and get to his favorite perches. He's always up for a bedmate and says welcom welcome to all the new kitties to help them feel comfortable.
---
Mango, Male, 2 Years Old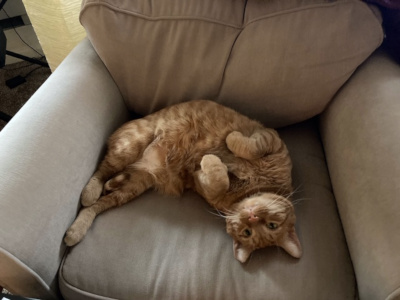 checking out a new family
Mango is about 2 years old and he showed up as a scrawny kitten to a friendly home that fed outdoor ferals. The nice lady fed him for several months before contacting us when the pandemic hit. He must have had a family before because he is so people friendly but no one claimed him so we took him in and got him neutered and shots. He's a chill kitty and very laid back. He does very well with other cats but probably not dogs. He has many cute poses and is quite photogenic. He loves meal time and makes sure he never misses a meal. And he likes to sleep on the bed and sit on your lap if you're in need of some good company.
---
Shae, Male, 3 Years Old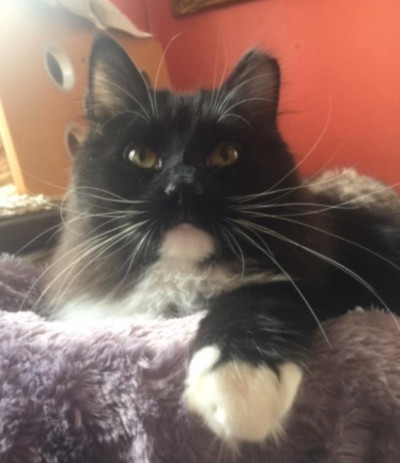 checking out a new family
Shae is about 3 years old and was born in someone's garage. He came to Tails High with his littermate Butter who got adopted. Shae is an easy going loveable boy who is great with other cats. He loves to play with the laser light and if he even hears it being moved he is on it and ready to play. He loves to lick your hands and toes and other kitties tend to groom him cuz with all that fluff I guess they think he needs it (he fells like pure sllk). He has a heart of gold and oh did we mention he loves loves loves the laser light (that is definitely the way to this boy's heart).
---
Freckles, Female, Born September 2019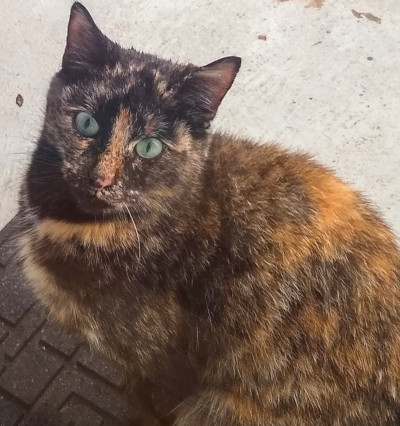 checking out a new family
Freckles has been hanging out in her rescuer's yard for quite a while now. She's a friendly girl seeking love and safety. She is a petite survivor who is ready to trade in life outside for a warm home and plenty of food. She is cautious but not afraid to demand attention. Her mesmerizing green eyes will easily capture your heart. The vet said Freckles was purring so loudly she could barely hear a heartbeat so we know she's a sweet girl who may need a bit of time to get used to being inside again. She's scheduled for her spay surgery next week and then she'll be ready to go to her new home. We don't think she will be with little kids but we know she's alright with some who are a bit older — maybe 10 or older. She seems to not be bothered by other cats but we just don't know about dogs.
---
DaVinci, Male, 4 Years Old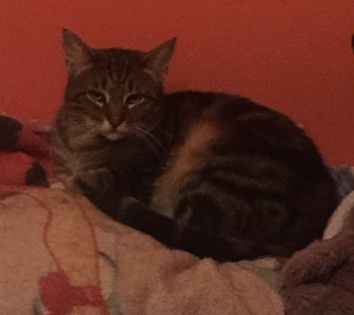 checking out a new family
DaVinci a brown tabby boy about 4 years old and super sweet. He does really well with other cats but not a fan of dogs. He is good mannered and a real sweetheart. He likes to crawl in your lap and just be held and get and give love. He knows his name and comes when called (we call him Vinci for short). He's used to sharing his mom so he's not overly needy but is such a sweetheart and always welcomes the opportunity when the lap is open.
---
Elby, Female, Born 2016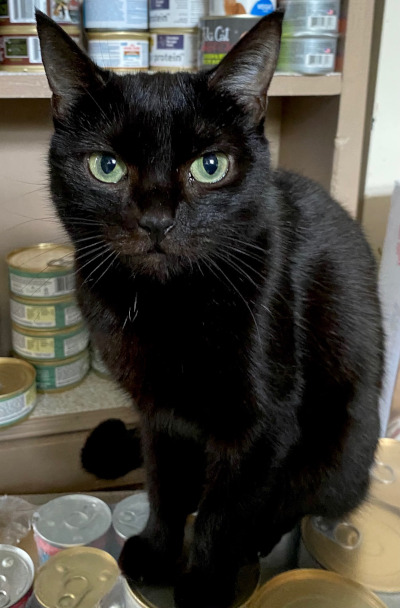 checking out a new family
Elby came to Tails High with her kittens and took a little bit longer to get comfortable with humans than her babies did. She has flourished in her foster home and although she can be a little shy at first, she enjoys pets and hugs and kisses. Elby loves to snuggle with her friend Meringue who is also available for adoption and they would love to find a home together if possible.
---
Icy, Female, Born 2014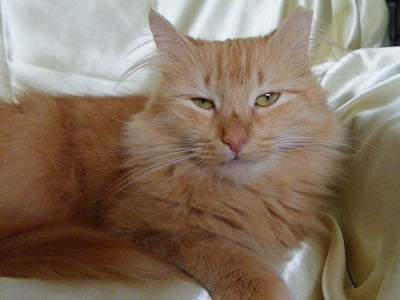 not accepting applications at this time
When visitors arrive at their foster home, Icy and Stella often run to the door to say hello and get some pets but Icy is still working on lap sitting, being held, brushed, and being a nice girl all the time. She and her long-time friend Stella would love to go to a new home together. Icy is a very pretty girl who is not a good first cat and will not do well with children or dogs. Icy would love to spend many years with a cat-experienced loving person or family who will help her continue to grow. She came to Tails High in 2014 when she was about six months old.
---
Stella, Female, Born 2014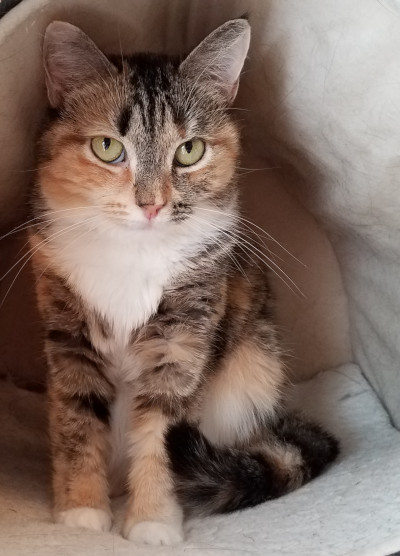 not accepting applications at this time
Stella came to Tails High in 2015 with her babies. She was a very scared girl and it took her quite a long time to warm up and learn to trust us. She's now a sweet girl who can still get scared in new situations but she also may come and ask for pets or hugs or she may join you in bed as you're waking up. Stella is good friends with Icy, they greet visitors together at the door they'd love to go to a new home together. Stella is not a good first cat and won't do well with children or dogs.
---
Cheese, Female, Young Adult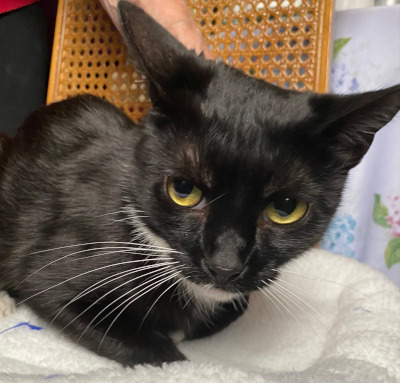 checking out a new family
Cheese is a very sweet girl that gets along well with other kitties. She can be timid at times but she warms up and is very affectionate. Cheese has had some skin issues we believe are attributed to allergies so she requires a seafood/fish only wet food for mealtime.
---