Because of the COVID-19 virus we have temporarily suspended our typical adoption activities but certainly want to keep finding our cats loving homes when possible. If you would like to be considered as a Foster to Adopt candidate, please complete an adoption application at http://www.tailshigh.org/home/adoption-application/. Each application is considered for approval on a case by case basis.
These golden-age beauties like to live on the slower side of life, but are not above chasing a mouse or two to liven things up every once in a while. If you are interested in adopting a one of these golden beauties please fill out our Online Adoption Form or attend one of our Adoption Events.
If you are unsure about whether or not to adopt an older cat, please see a testimonial here about adopting an older soul.
---
Itty Bitty, Male, 8 Years Old
Adopted!
This sweet senior boy (8 years old) is an absolute angel and Lovebug. He's front declawed and a gentle soul. He was quite overweight when he came (back) to us but now is a healthy weight. He's just a happy soul who loves kisses all over his body and will holler for you to go over and love on him. He's great with other kitties and just loves naps and looking out the window (and kisses in between).
---
Sonny, Male, Born 2011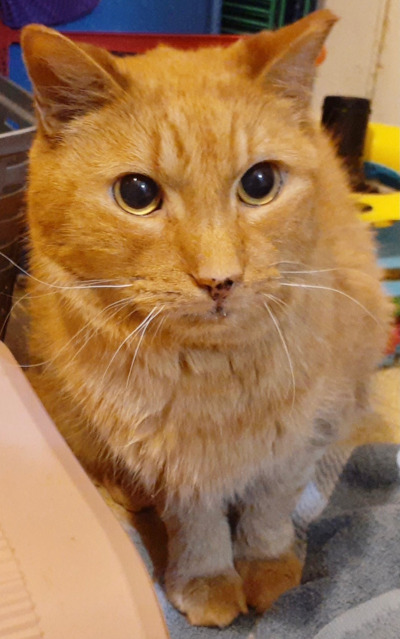 checking out a new family
Sonny was originally adopted from Tails high as a young boy (estimated birth year 2011). After some years he was returned back to us because of human medical issues in his home. After a short while, Sonny was adopted again but sadly, not by any fault of his own, after almost 3 years was returned back to us. Sonny is a sweet boy who prefers to be the only King in his new home. He has a thick coat that will need to be brushed at least a couple times a week to prevent mats from forming in his fur. He is a bit hesitant, but quickly becomes very trusting. Sonny will not do well with other cats, dogs, or children and should be the only pet in his forever home.
---
Lily, Female, 12 Years Old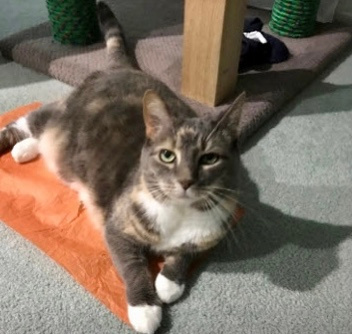 checking out a new family
Beautiful Lily is a 12 year old girl that he very friendly, playful, and cuddly plus trained not to jump on tables and countertops, nor scratch furniture. Visitors notice right away how friendly Lily is; she'll approach anyone, even those who say they don't like cats! Lily likes to sit on people's laps or next to someone and have her chin scratched, play with toys, or nap in a sunny location. She has a few funny habits like sometimes wanting to lie on tissue paper or stretch out on her back. One of Lily's favorites is to sniff the outdoor scents while sitting inside at an open door or window so she has been enjoying the spring season. Lily's current family needs to find her a new forever home as their circumstances have changed and she can no longer live with them. Please contact us if you are interested in this very sweet girl so we can connect you with the family directly.
---
Macaroni, Female, Born 2009
This lovely lady was adopted as a Tails High kitten in 2009. She's come back to us after the passing of her human. Macaroni was sad for a while but she's acclimated well to her foster home. She needs her thyroid pill twice a day and she never knows it's been crushed up and mixed into her food. Macaroni wants to be the queen, your one and only and she will need to be brushed on a very regular basis to avoid developing matts. You can wake up every morning with the lovely macaroni cuddled up in your arm pit! She is not a good fit for homes with children or dogs.
---
Precious, Female, 13 Years Old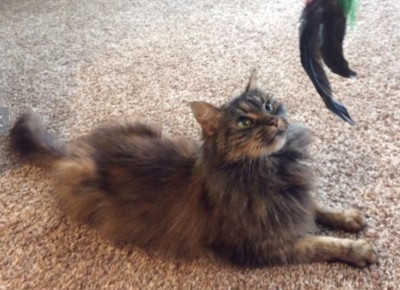 not accepting applications at this time
Precious is a gorgeous 13 year old sweet little torbie/tabby lady looking for her soft place to fall. She came to us after her dad passed away and she ended up homeless. She was so stressed she was under weight and had pulled out some of her fur. She now has a healthy weight and her gorgeous fur is in excellent shape. She loves to be pet behind her ears and all over. She will sit on your lap and purr for hours. She also has spunk in her older age and still loves to play. She is healthy for her age. Precious is a treat to come home to and anyone would be lucky to come home to this sweet companion.
---