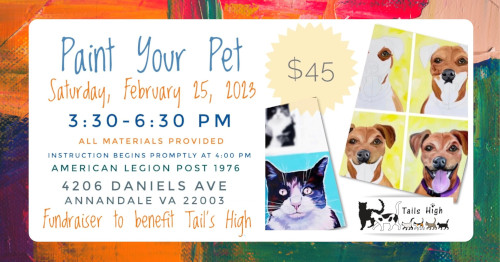 Join Tails High for an exciting, hands on, instructional painting event on Saturday, February 25th from 3:30-6:30pm! For just $45 you will have the opportunity to paint your very own pet with instruction from a gifted artist and Tails High volunteer. All materials will be provided to you, complete with an outline of your pet on canvas as a starting point for the class. Instruction begins promptly at 4:00pm. There will be drinks available for purchase at the event venue, light snacks provided, along with raffle items!
In order to participate in this highly anticipated event, limited to just 40 guests, we will need up front payment, paid directly to Tails High to secure your spot. Pay $45 through PayPal (https://bit.ly/tailshigh_paypal) or Venmo @tails-high, including 'Paint Your Pet – your email address' in the notes for payment. We will need your email address in the notes when you make payment in order to contact you with more details about sending in your pet photo in advance and a confirmation. We will require a high quality headshot of your pet sent to us no later than February 12th in order for our artist to complete your painting outline in advance of the event.
What: Paint Your Pet Painting Class to benefit Tails High
When: Saturday February 25th 3:30-6:30pm
Where: American Legion Post 1976
4206 Daniels Ave Annandale, VA
Why: Get hands on instruction from a fabulous artist and spend time with fellow cat lovers and supporters to benefit the Tails High kitties. Go home with your very own one of a kind painting on canvas of your special fur baby!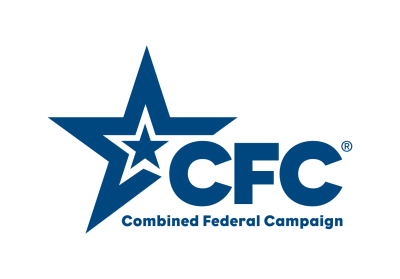 The Combined Federal Campaign of the National Capital Area (CFCNA) is the only authorized charitable-giving drive for Federal employees in the Washington, DC Metropolitan Area and the State Department employees overseas.
When making a donation during in the campaign please think of our kitties and how your donation will help feed and provide necessary medical treatment. We greatly appreciate your support!
Our CFC number is 23910.
---
Thank you, Petco Foundation, for your continued support.
---