Because of the COVID-19 virus we have temporarily suspended our typical adoption activities but certainly want to keep finding our cats loving homes when possible. If you would like to be considered as a Foster to Adopt candidate, please complete an adoption application at http://www.tailshigh.org/home/adoption-application/. Each application is considered for approval on a case by case basis.
These golden-age beauties like to live on the slower side of life, but are not above chasing a mouse or two to liven things up every once in a while. If you are interested in adopting a one of these golden beauties please fill out our Online Adoption Form or attend one of our Adoption Events.
If you are unsure about whether or not to adopt an older cat, please see a testimonial here about adopting an older soul.
---
KittenMonkey, Female, Born 2009
checking out a new family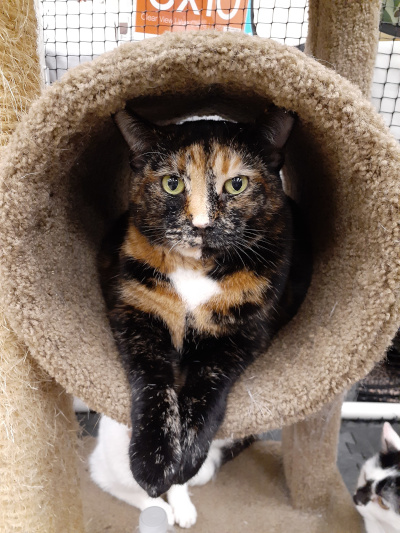 What a sweetie! Because of her financial situation, KittenMonkey's person was unable to keep her. We helped her with food and litter for a few months but she decided it was best for KittenMonkey to have a new home. Her foster parents report that she's playful and interactive. She was a bit overweight when she came to us but has been doing well on her diet.
---
Macaroni, Female, Born 2009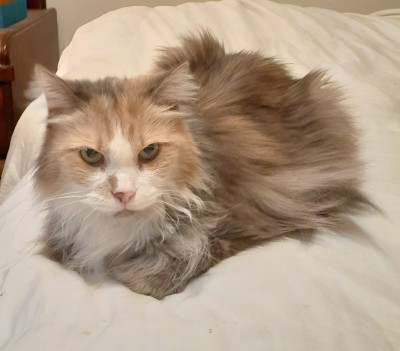 This lovely lady was adopted as a Tails High kitten in 2009. She's come back to us after the passing of her human. Macaroni was sad for a while but she's acclimated well to her foster home. She needs her thyroid pill twice a day and she never knows it's been crushed up and mixed into her food. Macaroni wants to be the queen, your one and only and she will need to be brushed on a very regular basis to avoid developing matts. You can wake up every morning with the lovely macaroni cuddled up in your arm pit! She is not a good fit for homes with children or dogs.
---
Mittens, Female, Born 2006
Adopted
Mittens was found in a barn as a kitten in 2006. She came to Tails High because sadly she and her person lost their home. We're told she is a princess and a diva and has been spoiled rotten. Even though she is an older girl and has slowed down a bit (not much really) she still loves to play with her toys alone or with someone else. Some of her favorites are tissue paper and plastic bags, any tightly confined space she can squeeze into or way up high at the top of a piece of furniture or a cat tree.
She may be shy when she meets new people, but once she gets to know you she will ask for love and pets and brushing!
---