These golden-age beauties like to live on the slower side of life, but are not above chasing a mouse or two to liven things up every once in a while. If you are interested in adopting a one of these golden beauties please fill out our Online Adoption Form or attend one of our Adoption Events.
If you are unsure about whether or not to adopt an older cat, please see a testimonial here about adopting an older soul.
---
Charlotte & Emily, Females, 10 Years Old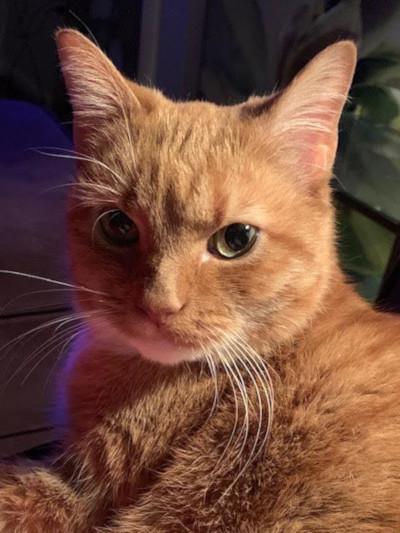 This pair of sisters were rescued together a little over a year ago, and sadly find themselves in need of a second rescue. Emily, a sweet orange tabby, is very much a people-cat (the feline version of a cat person). She's smart, attentive, curious, and happily engages with people who approach her. Emily is playful and energetic, and when her energy is spent she adores cuddle time. Her sister Charlotte, a lovely grey tabby, is more reserved. She enjoys relaxing in sunbeams or chilling on the sofa while being brushed or petted, but has yet to be convinced that a lap is a good place to sit. Which, quite frankly, suits her sister just fine. While we would obviously like to see them find a home together, they will probably be ok if separated.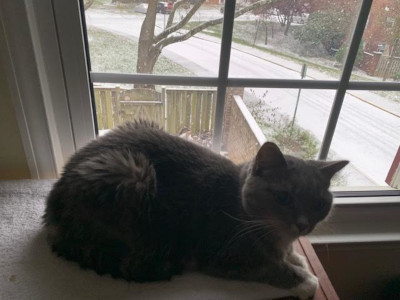 ---
Posh, Female, 15 Years Old
Posh appeared one morning in her rescuers yard, asking for food. She was emaciated with ears badly damaged from an infection. She'd clearly been left to fend for herself on the streets for quite some time – and being front declawed did not make this easy for her. Fortunately for Posh, she picked the right yard to creep into. She is now a happy, confident girl living indoors at her foster home and bossing around the kittens who get out of line. She was treated for her ear infection, and the vets believe that she has some ability to still hear. She has some sensitivity on her lower back, likely due to an injury from her time on the streets, but deeply appreciates kisses on the top of her head and scritches under her chin. Not a cat to hang out at the top of bookshelves, Posh prefers to lounge on soft pillows while taking a sunbath, or positioning herself in a cat cubby to watch the room.
---