Because of the COVID-19 virus we have temporarily suspended our typical adoption activities but certainly want to keep finding our cats loving homes when possible. If you would like to be considered as a Foster to Adopt candidate, please complete an adoption application at
http://www.tailshigh.org/home/adoption-application/
. Each application is considered for approval on a case by case basis.
Kittens! Believe it or not, there were 5 of them curled up in this kitten hammock last season. They were too young to go home when this photo was taken and since then they've all grown bigger and have been adopted.
There's a break now but we anticipate a new kitten season to start again soon with hundreds of kittens starting to be born again in this area. At that time, we'll be in need of kitten foster homes where two or more kittens can be temporarily housed and cared for under our guidance. Let us know if you want more information about joining the Tails High Foster Team!
---
Sea Lion, Female, Born 2020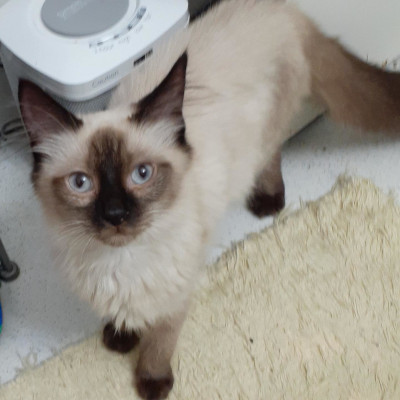 Meet Sea Lion! This little guy is about 4-5 months old and very playful. His coat is super soft and he enjoys lots of pets. As with all kittens we find homes for, Sea Lion will need a cat friend in his new forever home.
---
Dura, Female, Born 2019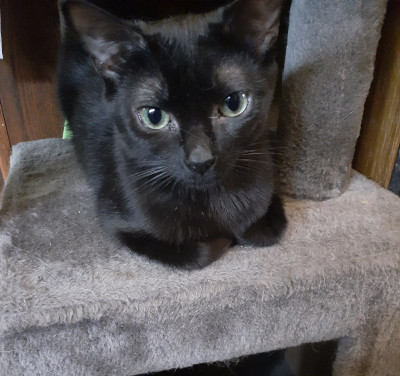 Born October 2019, Dura is a gorgeous black beauty! She's a lovey, sweet young girl who will need some time to get to know you but once she does she'll be on your lap for as long as you'll have her. She will be ok with another cat or two but probably not with a dog. Dura will do best in a home with a single person or a couple with a calm home life. This girl will not do well with children.
---
Sausage, Female, Born 2019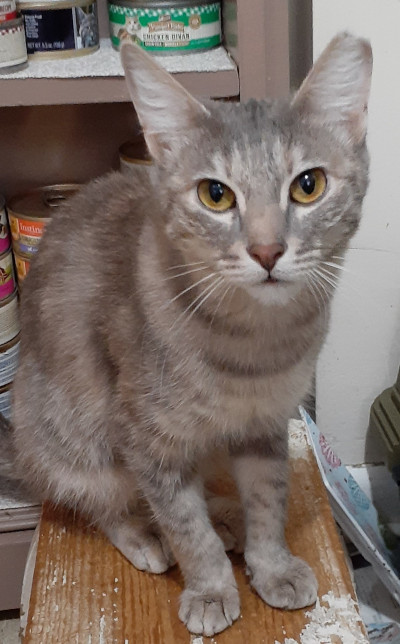 She came from Kabul, Afghanistan with that name! Sausage is still working on being held and lap sitting for longer periods but she likes to be petted, and she head and nose butts if you ask for a kiss and she'll rub up against you. You may also find her next to you on the couch. She has a very loud voice so she's been working on whispering instead of yelling when it's time to eat. Sausage likes other cats but we don't know about dogs. She's a very active, interactive, and sweet youngster who loves to scratch on her post. She still has some work to do but the right adopter can help Sausage become an even more lovely companion. She has an estimated birthday in September 2019.
---
Franklin, Happy Boy, and Aethelflaed, Kittens, Born Between April and May 2020
Franklin, Happy Boy, and Aethelflaed have been fostered together. They love hanging out with their foster parents, and when not running around being typical kittens, they may be found on the couch watching TV with the folks. They are all typical curious and friendly kittens who are comfortable with dogs and other cats. They were all born between April and May 2020 and each kitten needs a cat friend in their new home.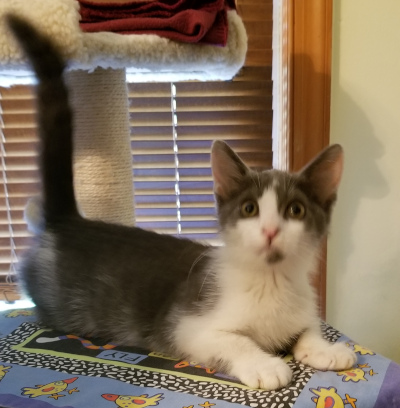 Franklin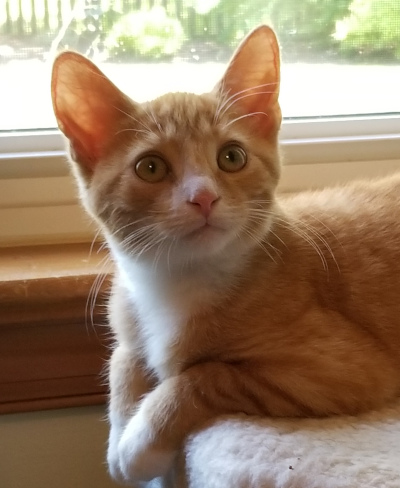 Happy Boy
Aethelflaed
---
Adagio, Male, Born Late May 2020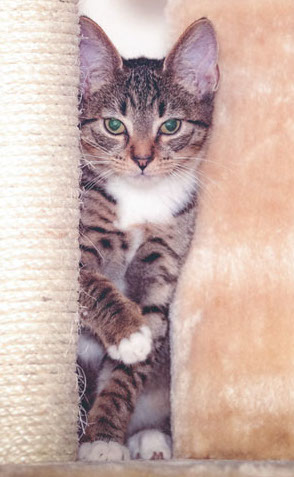 Adagio is a very sweet and sociable little boy who loves to cuddle and spend time with his humans and other cats. He would be best suited for a family who can spend the time and attention needed as he is a lovable but active little guy. He loves chasing laser pointers and a huge fan of cat wands with string so he can try to catch it. He also loves to be held and rocked slowly in his humans arms and purrs almost the entire time. Adagio will be shy for the first few days, but he will open up quickly and most certainly will make himself at home in his new forever home. Adagio must have a cat friend in his new home.
---