Kittens! Believe it or not, there were 5 of them curled up in this kitten hammock last season. They were too young to go home when this photo was taken and since then they've all grown bigger and have been adopted.
There's a break now but we anticipate a new kitten season to start again soon with hundreds of kittens starting to be born again in this area. At that time, we'll be in need of kitten foster homes where two or more kittens can be temporarily housed and cared for under our guidance. Let us know if you want more information about joining the Tails High Foster Team!
---
Juli, Male, 9 Months Old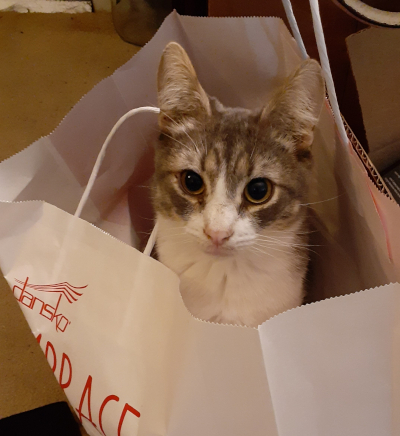 Everyone thinks Juli is a girl but really, it's just that the shelter left the "us" off the end of his name! He's a loveable character who purrs in a second. Juli loves hugs and may even reach for you to hold him if you're close enough to him.
---
Jade, Female, 8 Months Old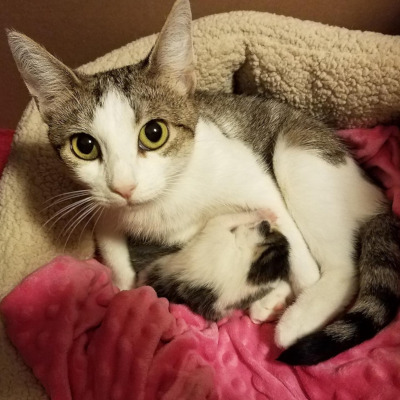 Meet our newest Mama, Jade! Jade walked into her Rescuers yard and they brought her inside because they could tell she was very pregnant. The next day she had her babies! So far mom and babies are doing great. Jade is a young girl, maybe about 8 months old, so once her babies are weaned Jade will be looking for her new forever home.
---
Tanki, Female, 8 Months Old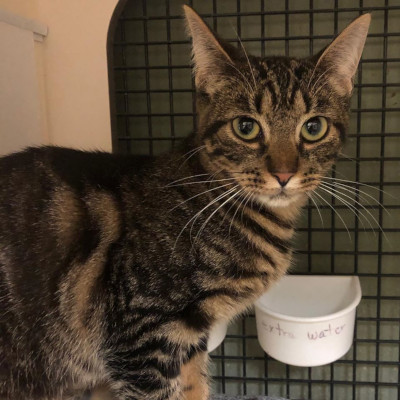 Tiny Tanki is still awaiting her forever family to come along. She is 8 months old, super sweet and silky soft! Her brown tabby markings are quite unique and beautiful. Tanki gets along well with other cats and would enjoy having a cat friend in her new home to play with. Please message us if you're interested in meeting Tanki!
---
Stormy, Male, 8 Months Old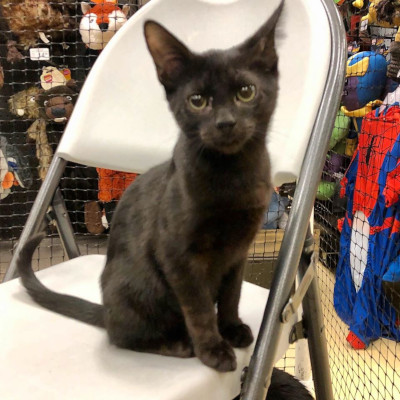 The family that adopts Stormy sure will be lucky! Stormy is the epitome of a happy boy and is so deserving of a loving home to call his own. He enjoys the company of other cats and is super playful – in fact, we would love for him to join an existing cat family or be adopted with another kitten or cat to play with. Wouldn't it be great for Stormy to know that no one believes in superstitions like "black cats are bad luck" and find his forever home on this supposedly unlucky day? Let's make his dreams come true! Please share Stormy and contact us if you're interested in meeting this 8 month old love bug!
---
Tinee (Male) and Pink (Female) – 11 months old
checking out a new family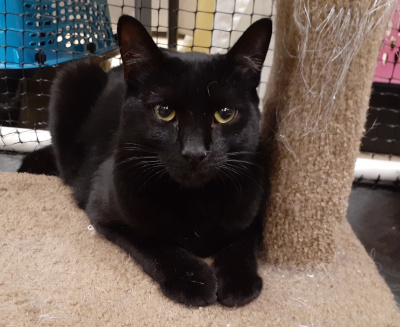 Believe it or not, these are two different kitties! This brother and sister duo is Pink (female) and Tinee (male). These house panthers are 11 months old, very playful and super sweet! They are siblings but do not need to be adopted together. They were the first kittens we took in this last kitten season.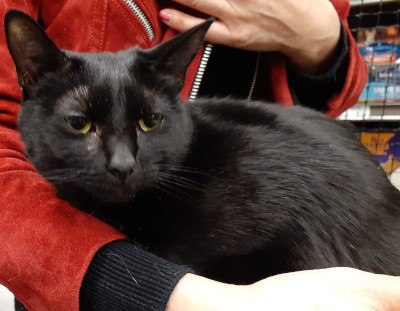 ---