Kittens! Believe it or not, there were 5 of them curled up in this kitten hammock last season. They were too young to go home when this photo was taken and since then they've all grown bigger and have been adopted.
There's a break now but we anticipate a new kitten season to start again soon with hundreds of kittens starting to be born again in this area. At that time, we'll be in need of kitten foster homes where two or more kittens can be temporarily housed and cared for under our guidance. Let us know if you want more information about joining the Tails High Foster Team!
---
Juli, Male, 9 Months Old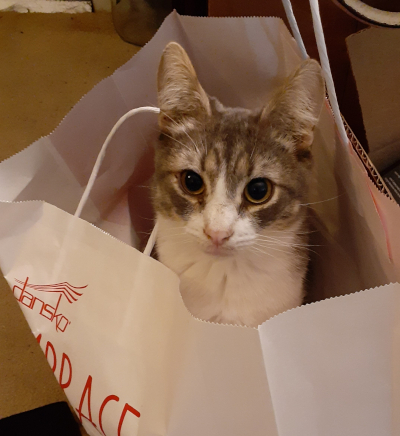 Everyone thinks Juli is a girl but really, it's just that the shelter left the "us" off the end of his name! He's a loveable character who purrs in a second. Juli loves hugs and may even reach for you to hold him if you're close enough to him.
---
Key, Female, 9 Months Old
checking out a new family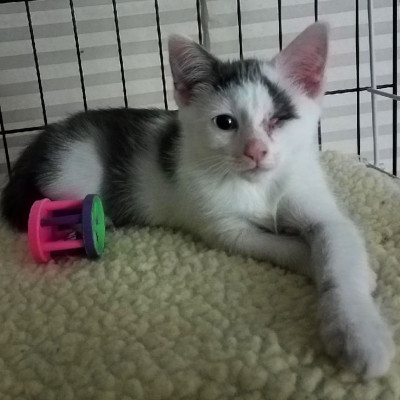 This pretty little girl is Key! Fortunately, she was found in someone's yard all by herself and they contacted us to help so now she is safe and sound. Originally it was thought that Key had an eye infection, but in fact her eye is just not there. She has what's called non-functional micro ophthalmia but that doesn't keep her from being an adventurous, spunky, little gal ready to conquer the cat tree and whatever toys she can get her paws on! Key is still too young and tiny to be spayed so it will be a bit longer before she is available for adoption but we couldn't resist sharing her precious face with you all!
---
Miri, Female, 4 Months Old
Miri is short for miracle, the name she was given at the shelter, and she is a very unique, pretty girl. She's about four months or so and because she's a kitten needs a cat friend in her new home. She's a very sweet girl and enjoys being petted and spending time with her good friend Copper and the two of them could make a good pair in a new home! Please message us if you're interested in meeting this beautiful girl.
---
Kiki, Female, 5 Months Old
checking out a new family
Sweet little Kiki is ready to find her forever home! This beautiful tortie girl is just 5 months old and full of love to give. She is very good with other cats and has been enjoying learning how to play with mice toys. Kiki is a tiny girl that was found by one of our volunteers and now we need to find her the perfect family – is it you?
---
Bangs, Male, 6 Months Old
checking out a new family
Bangs was obviously named for his black markings that look like an adorable hair cut but beyond his unique hairstyle he is also just the sweetest cuddliest guy around. He will sit next to you with his feet on your legs to be close and loves to be hugged. He came to Tails High from Front Royal where he was living outdoors but was clearly too friendly to live outside on his own. This 6 month old boy will make a wonderful companion. Please message us if you're interested in meeting this handsome guy.
---
Jade, Female, 8 Months Old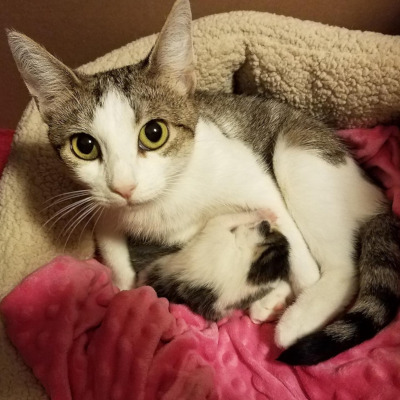 Meet our newest Mama, Jade! Jade walked into her Rescuers yard and they brought her inside because they could tell she was very pregnant. The next day she had her babies! So far mom and babies are doing great. Jade is a young girl, maybe about 8 months old, so once her babies are weaned Jade will be looking for her new forever home.
---
Tinee (Male) and Pink (Female) – 11 months old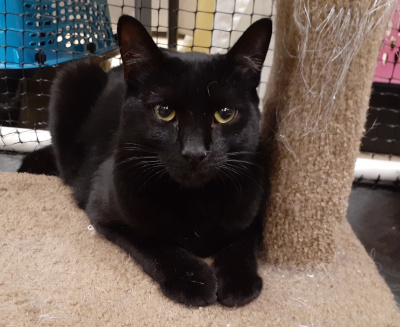 Believe it or not, these are two different kitties! This brother and sister duo is Pink (female) and Tinee (male). These house panthers are 11 months old, very playful and super sweet! They are siblings but do not need to be adopted together. They were the first kittens we took in this last kitten season.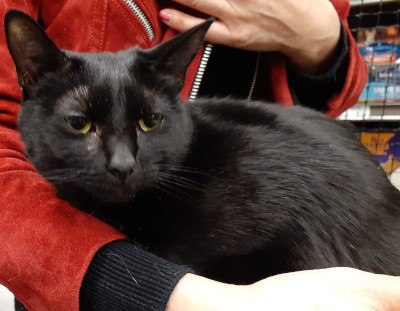 ---