While technically not kittens anymore, these kitties are definitely still kids. Their bottomless energy stores combined with their love of toys make them the biggest stars of our Adoption Events.
---
Flipper, Male, Young Adult
checking out a new family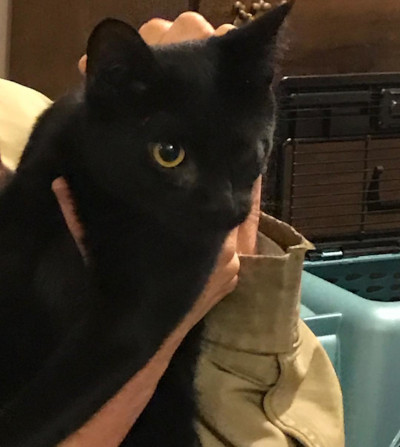 Flipper is mini house panther looking for a home to stalk toys in. He lost an eye as a kitten, but he doesn't notice. Instead he's embraced a rakish, devil-may-care persona. Flipper (who may do an accidental flip in his energetic exploits) loves toys. He will wait eagerly but patiently next to his person for them to bring out the string or feathers so he can chase them; and if a person is not available he will immediately turn his attention to stalking and pouncing on any toys scattered about. The mini house panther also adores other cats, and wants nothing more than to have a feline friend to chase, wrestle, and snuggle with. If you enjoy taking pictures of your cats, be prepared for lots of blurry action shots (unless you've got a good quality camera), or plan to take pictures when he's napping.
---
Ollie, Female, 1-1 1/2 Years Old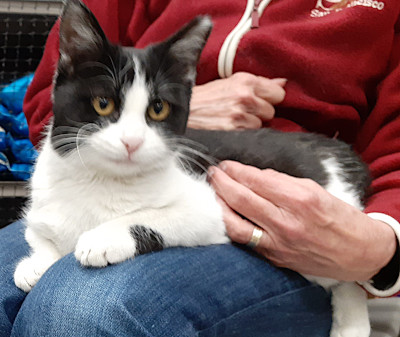 She was a stray in Afganistan who was fostered by an american woman. When the person who was planning to adopt her abandoned the plan, Ollie decided she'd rather join the Tails High family. She's a very sweet and vocal girl who is used to other cats and can also keep herself entertained. She won't need very long to acclimate to a new home.
---
Sharlot, Female, Young Adult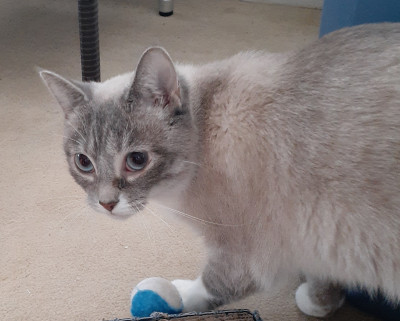 This beauty was a scared stray just a couple months ago. She was found at a local feeding site. Sharlot would be ok with another friendly cat who won't challenge her and she'd be happy as your only special girl. We do not recommend placing her in a home with children.
---
Raquel, Female, 1-2 Years Old
checking out a new family
Meet Raquel – a beautiful young lady, estimated to be 1-2 years young and sweet as can be. Raquel came to Tails High from West Virginia with her kittens and is now ready to find a forever home of her own. She gets along well with other kitties, loves belly rubs and has the most precious purr when she's excited for attention. If you're interested in Raquel, please send us a message!
---
Cassie, Female, 2 Years Old
checking out a new family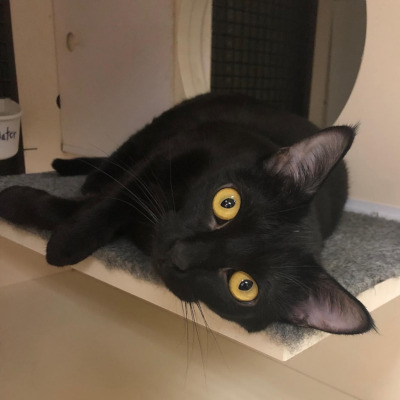 Although Cassie has already been a mommy to a litter of beautiful kittens, she still acts like a playful kitten herself! This pretty girl is still awaiting a forever home and can't wait for someone to love on. She's affectionate, spunky and absolutely gorgeous! Please message us if you're interested in meeting Cassie.
---
Sunshine, Female, 1-2 Years Old
checking out a new family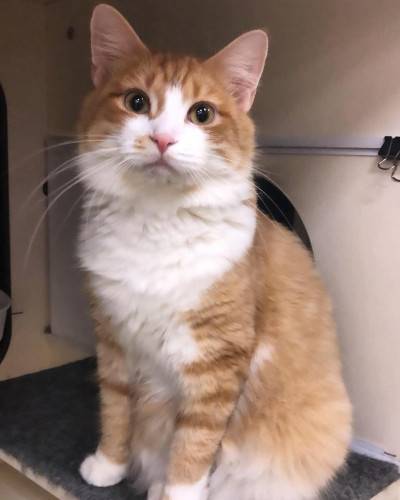 Okay, we're stumped. How is it possible that Sunshine hasn't found a forever family yet? Do you see this precious face?! Let us tell you about little miss Sunshine… she is as sweet as the sun is warm. Sunshine has already mothered a litter of kittens that she raised and have since been adopted to families. In her short year on this Earth she has been around lots of other cats, so many so in her previous home in WV that she needed to find a new home. She has a bright any cheery personality, just as her name suggests and loves attention from humans. Sunshine is a volunteer favorite as she happily greets you when you arrive at Petco with a little squeaky meow, eagerly awaiting head skritches and boops. Sunshine will make a wonderful companion and family member! Do you have room in your home and heart for this precious girl?
---
Toaster, Male, 3 Years Old
checking out a new family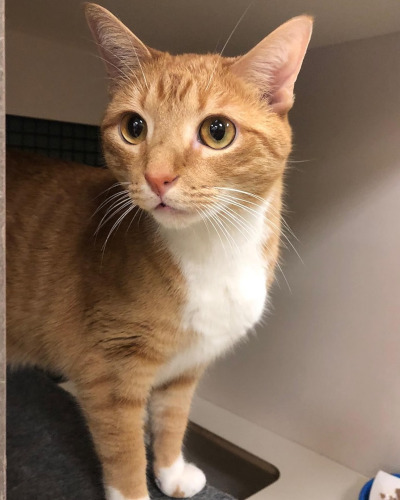 You may recall that we posted about 3 year old Toaster needing a new home a few months back as a courtesy post. Now he is a Tails High kitty, but still in need of a forever family. This boy is a real sweetheart and would make the perfect addition to your crew. He's big on giving out head boops and our volunteers have noticed that he makes biscuits while he's eating because he's just SO HAPPY to get his yummy food! Toaster has been getting along well with his kennel pal, Victor, at Petco in Annandale VA so we suspect he will be okay with brothers or sisters of the furry or human kind. Please message us if you're interested in meeting Toaster!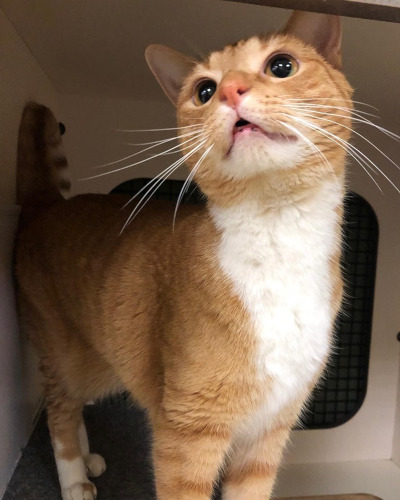 ---
Big Guy, Male, 3 Years Old
checking out a new family
Big Guy found himself in a shelter after being brought in as a stray. It's very clear he doesn't belong outdoors or on the streets because he is a TOTAL LOVE BUG! Tails High rescued Big Guy from the shelter and we made him a promise to find him a wonderful forever family. This boy is estimated to be 3 years old, is very affectionate and playful and he would make a wonderful addition for a family looking for a kitty with personality! Please message us if you'd like to meet Big Guy.
---
Victor, Male, 3-5 Years Old
checking out a new family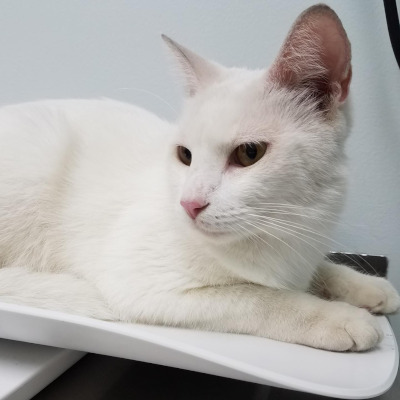 Meet Victor! Victor was a stray in Manassas who came to us from a previous adopter of Tails High kitties who has been feeding him for about a month outdoors. He's estimated to be between 3 to 5 years old and is one of the sweetest most cuddly cats you'll ever find! Please message us if you're interested in meeting this lovebug.
---
Casey, Male, 3 Years Old and Gracie Female 3 1/2 Years Old, bonded pair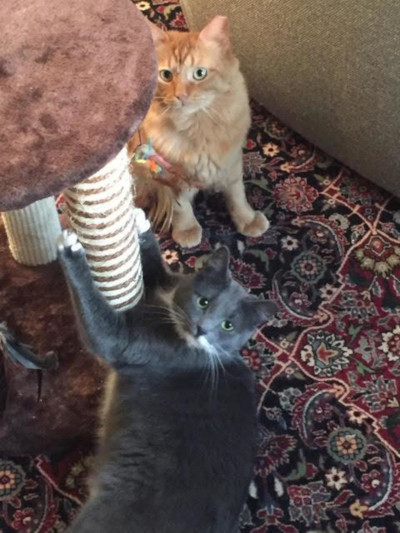 Casey and Gracie are a sweet, playful pair of bonded cats in need of a special person. Rescued from the streets, they have slowly adapted to living indoors and have definitely come to appreciate the advantages that being indoor cats brings – namely, comfort, companionship, and a reliable source of food. Also string toys. They adore string toys. They definitely want a home that includes string toys, and a person to play with them. Playing with string toys and with each other is the highlight of their lives.The skittishness they learned on the streets hasn't completely left them though, which is why they need a special person. Casey and Gracie will willingly eat food or accept treats from your hand, but they are otherwise hand shy and are scared of being petted. They will happily hang out next to you on the couch or nearby, but haven't figured out lap snuggles. The best case scenario is that they can find a person who is patient and willing to continue their training so that they can come to enjoy chin scritches and head rubs (we can provide tips on how to do that); but a person who is willing to accept them as they are would also be wonderful. Casey and Gracie must remain together wherever they go – they take being bonded to an all new level and are rarely found apart.
---
Icy, Female, 4 Years Old
She is now one of the greeters at her foster home and when visitors arrive she runs to the door to say hello and get some pets. Icy is still working on lap sitting and being held. She must have a cat friend in her new home as she loves having companionship with other kitties and feels insecure without it. She's about four years old and would love to spend many years with a loving family who will help her continue to grow.
---
Macguyver, Male, 5 Years Old
checking out a new family
Have you ever seen such a handsome guy? Macguyver is a very playful, energetic, medium-haired lynx point that is looking for a new forever family that is cat experienced. This boy would be very happy as an only cat so he can be his humans best buddy. We want to ensure he has the best forever home possible, for both he and his potential family, so if you're interested in adopting him, please tell us a bit about your previous/current experience in owning cats when completing an application.
---
Toby, Male, Adult
checking out a new family
Toby has worked hard the last several months to shed some pounds in time for summer! In all seriousness, this handsome guy came to Tails High overweight and with some TLC and good eating habits, he has gotten to a healthy weight and we are very proud of him. He is still waiting for a forever family to come along and make his heart happy. He's a sweet, gentle guy that enjoys being brushed and petted any chance he gets. If you're interested in meeting this love bug, send us a message!
---
Chaussette – Female – 8 years old &
Bronx – Male – 3 years old
checking out a new family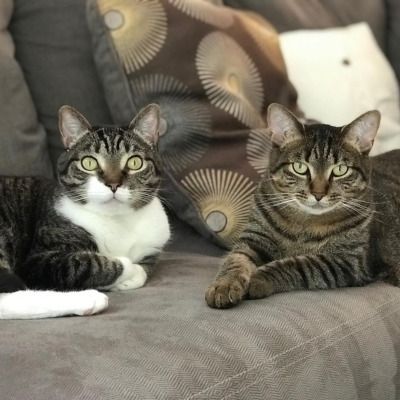 COURTESY POST:
Chaussette and Bronx are in need of a second chance in the form of new forever homes. Unfortunately their current owner is undergoing a lifestyle change and has asked for our help in finding new families to adopt these two beautiful kitties.
Chaussette (left side in first photo) is 8 years old. She was a rescue from a shelter close to Blacksburg, VA. She is a black, grey and white short-hair tabby. She is a very cuddly cat and likes attention but can get over stimulated at times. She prefers to be an only cat, without small children but she is very loving and loves to snuggle with her humans.
Bronx (right side in photo) is 3 years old and he is a black and brown short-hair tabby. He was just a tiny little kitten when he was adopted in Woodbridge but he quickly developed a big appetite and showed his playful, adventurous side as he grew into a big boy. He can be a bit of a scaredy cat so he prefers to hide if there are strangers around but when he's with his family he turns into a love bug lap cat. Bronx can get along with other cats but just as with any other adoption he may need some time to adjust in a new home.
Please message us if you are interested in Chaussette or Bronx so we can connect you with their owner and give them a new loving home!
---