Because of the COVID-19 virus we have temporarily suspended our typical adoption activities but certainly want to keep finding our cats loving homes when possible. If you would like to be considered as a Foster to Adopt candidate, please complete an adoption application at /home/adoption-application/. Each application is considered for approval on a case by case basis.
While technically not kittens anymore, these kitties are definitely still kids. Their bottomless energy stores combined with their love of toys make them the biggest stars of our Adoption Events.
---
Meringue, Female, Born August 2015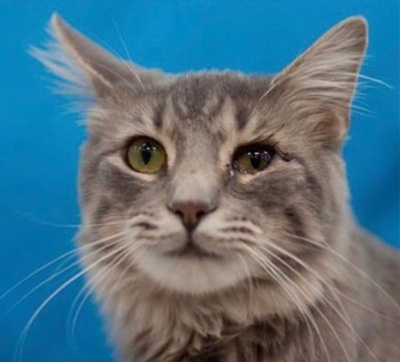 Meringue has had a long journey with Tails High since she came to us as a small kitten. A couple of years ago she began limping and needed extensive knee surgery which she has successfully recovered from. She loves cuddling and is a very sweet girl. She and her fellow foster friend, Elby, really enjoy each other's company and would love to find a home together if possible.
---
Elby, Female, Young Adult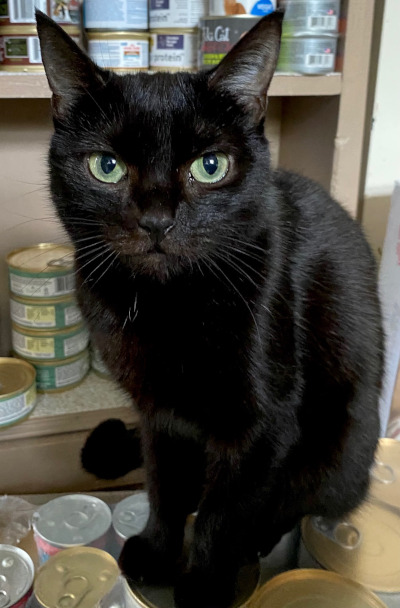 Elby came to Tails High with her kittens and took a little bit longer to get comfortable with humans than her babies did. She has flourished in her foster home and although she can be a little shy at first, she enjoys pets and hugs and kisses. Elby loves to snuggle with her friend Meringue who is also available for adoption and they would love to find a home together if possible.
---
Snoot, Female, Young Adult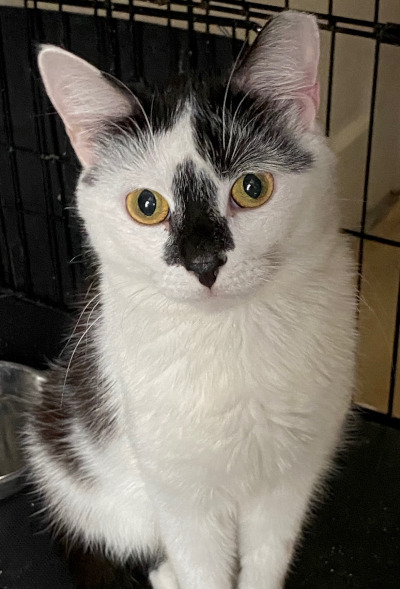 Snoot is a sweet girl that loves giving kisses and head boops but she isn't going to be your typical lap cat. She's much more happy sitting beside you and keeping you company but needs to be ready to make her next move if need be. She's interactive and will chat with you which we happen to think would be useful these days.
---
Porter, Female, Born 2015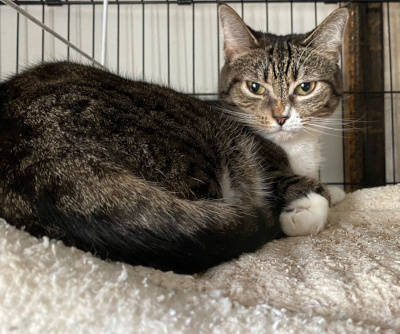 Porter came to Tails High a very scared mommy cat with her babies but she has made a lot of progress with her foster mom over time. She can still be a bit quite cautious but she loves pets.   Porter will need a cat experienced adopter to give her the love and patience she needs. We know she will be a fantastic companion who will continue to flourish in the right home. Porter gets along well with other cats and would be happy to join other kitties in her forever home. Porter is not a good first cat and will not do well with young children. We expect she will not appreciate dogs.
---
Cheese, Female, Young Adult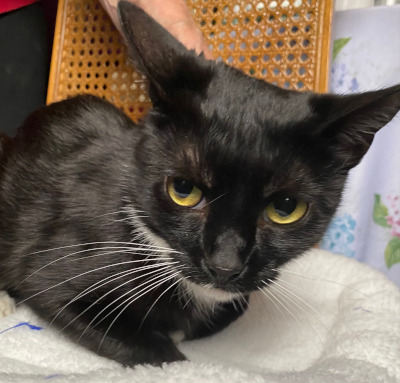 Cheese is a very sweet girl that gets along well with other kitties. She can be timid at times but she warms up and is very affectionate. Cheese has had some skin issues we believe are attributed to allergies so she requires a seafood/fish only wet food for mealtime.
---
Juli, Male, Born 2018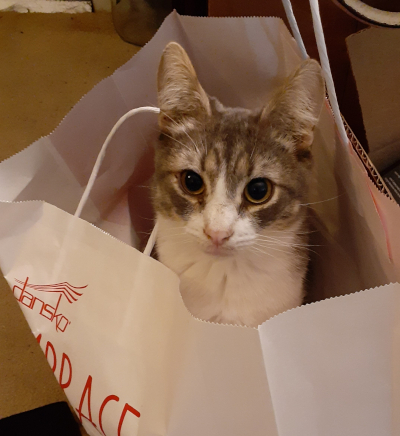 Everyone thinks Juli is a girl but really, it's just that the shelter left the "us" off the end of his name! He's a loveable character who purrs in a second. Juli loves hugs and may even reach for you to hold him if you're close enough to him.
---
Miri, Female, Born 2018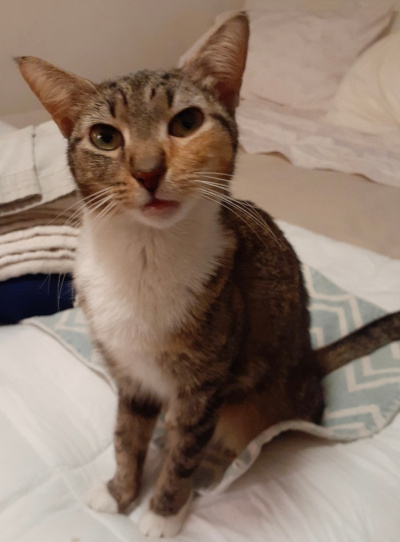 Miri is a sweet and gentle soul who welcomes gentle kisses and touch. She's not a typical rowdy two-year-old cat and instead is quite calm. Miri loves other cats and must have a calm cat friend in her new home who she can fall in love with. We'll know Miri is comfortable in her new home when she runs to cuddle with her new cat boyfriend or girlfriend. Miri will sleep in bed with you and you may find her on the back of the couch while you're sitting there. If you're lucky she may talk to you with her little quiet squeaky voice and she may even give you not so wet kisses on your hand or cheek.
---
Icy, Female, Born 2014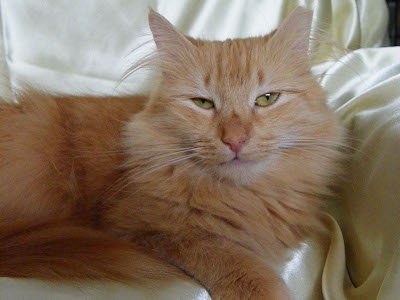 When visitors arrive at their foster home, Icy and Stella often run to the door to say hello and get some pets but Icy is still working on lap sitting, being held, brushed, and being a nice girl all the time. She and her long-time friend Stella would love to go to a new home together. Icy is a very pretty girl who is not a good first cat and will not do well with children or dogs. Icy would love to spend many years with a cat-experienced loving person or family who will help her continue to grow. She came to Tails High in 2014 when she was about six months old.
---
Stella, Female, Born 2014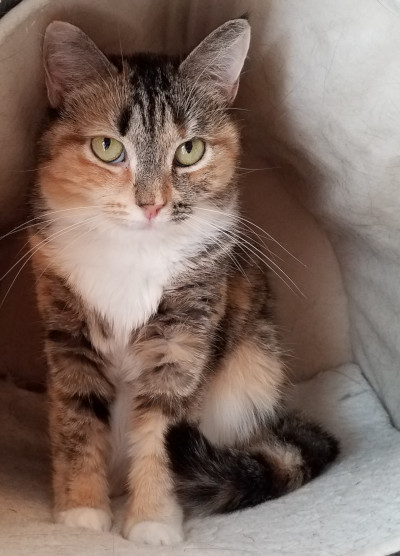 Stella came to Tails High in 2015 with her babies. She was a very scared girl and it took her quite a long time to warm up and learn to trust us. She's now a sweet girl who can still get scared in new situations but she also may come and ask for pets or hugs or she may join you in bed as you're waking up. Stella is good friends with Icy, they greet visitors together at the door they'd love to go to a new home together. Stella is not a good first cat and won't do well with children or dogs.
---
Gracie, Female, Born 2011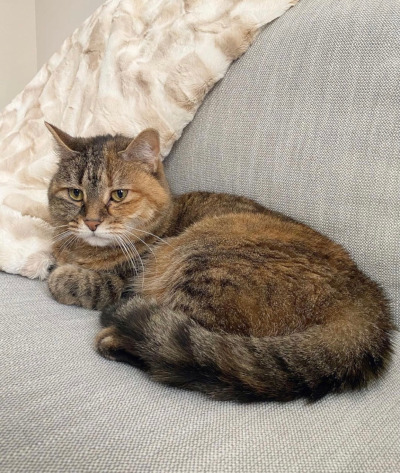 Gracie was a Tails High kitten in 2011. She came back to us because she and her sister weren't getting along anymore! Gracie is a shy girl when she first meets you but then she'll turn into a purr machine! She loves to play with stuffed mice and the brush is her friend. Gracie will do best as an only cat without children or dogs.
---
Jade, Female, Born 2018
checking out a new family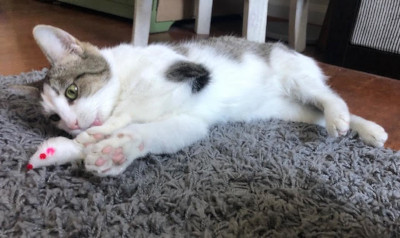 Jade still looks like a kitten but she was born in late 2018. She has a velvety soft coat and a sweet personality. Jade just wants to be loved and, once she trusts you, she'll be your best friend. She loves chasing her toy balls and leaping acrobatically to catch them in midair! Once she tires herself out, she retires to one of her many napping spots to charge up for her next adventure. One of those favorite spots is curled up on your lap but you might also find her snoozing under a blanket wherever you leave one.
Jade will come when you call her, always ready for lots of ear scratches and belly rubs. She will tell you when she wants some love and when you're late to give her dinner but tends to be quiet otherwise. Jade thrives in a home where she can be the center of attention, as other animals can get in her space. If you're looking for a sweet, little lap cat to complete your home, Jade might be the perfect fit!
---
Sasha, Female, Born 2018
checking out a new family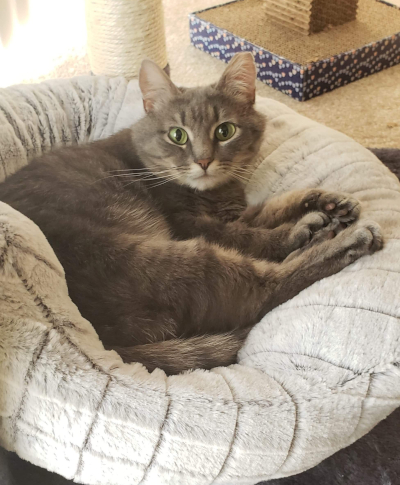 Sasha is a beautiful gray tabby who is shy at first, but has a love of attention that makes her come out of her shell. After she warms up with some gentle encouragement from you, she'll be sleeping at the foot of your bed or on you every night! She is very playful, and will bring you toys to show you how wonderful a hunter she is. Sasha would be great as an only cat, but will warm up to other cats given an adequate amount of time to get adjusted. She also has an array of incredibly cute meows, some of which are to instigate immediate petting. She's usually very calm when not playing or wanting pets, and likes to sleep in a tucked away place for her daily catnaps. Otherwise, she's interested in being in the same room with you! She's very sweet, very communicative, and very ready to find her forever home! Sasha is just under 2 yrs old.
---