While technically not kittens anymore, these kitties are definitely still kids. Their bottomless energy stores combined with their love of toys make them the biggest stars of our Adoption Events.
---
Flipper, Male, Young Adult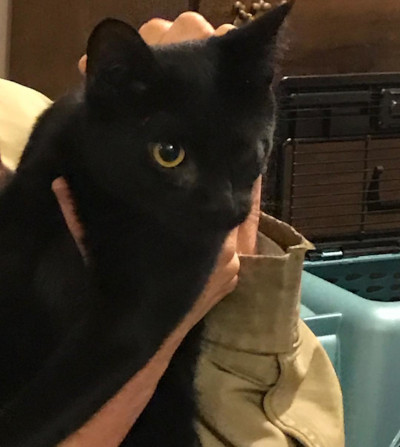 Flipper is mini house panther looking for a home to stalk toys in. He lost an eye as a kitten, but he doesn't notice. Instead he's embraced a rakish, devil-may-care persona. Flipper (who may do an accidental flip in his energetic exploits) loves toys. He will wait eagerly but patiently next to his person for them to bring out the string or feathers so he can chase them; and if a person is not available he will immediately turn his attention to stalking and pouncing on any toys scattered about. The mini house panther also adores other cats, and wants nothing more than to have a feline friend to chase, wrestle, and snuggle with. If you enjoy taking pictures of your cats, be prepared for lots of blurry action shots (unless you've got a good quality camera), or plan to take pictures when he's napping.
---
Casey, Male, Young Adult
checking out a new family
Casey is a sweet tempered, gentle cat who just wants to be loved. He was rescued from the streets, but quickly made it clear that the streets were not his original home. He is often found in close proximity to other cats, snuggling right up to them if given the chance; and is quick to make friends with all the cats he encounters. If you have a kitty who is lonely and in need of a friend, Casey is your boy. When it comes to people, he is initially shy, but once he realizes that you are to be trusted, he will do everything that he can to fit himself in to your life so that it's impossible to imagine what it was like before he came along.
---
Frisky, Female, 1 1/2 Years Old
checking out a new family
Frisky, with her distinctive half mask over both eyes and freckled nose, simply turned up on her rescuers porch one morning and politely asked for some food. After several months of this and with the weather about to turn cold, she was picked up and brought inside. Frisky is so excited about being an indoor kitty again she has announced that she is the perfect cat for any family – she loves other cats, children, and adults in equal measures. She is inquisitive, likes to know what her people are doing, runs up to investigate new noises and mysterious boxes, and is fearless when confronted with the sound of the ringing doorbell. Frisky adores snuggles and belly rubs, and is hoping for a home where these are in abundance.
---
Flea, Female, 1 1/2 Years Old
checking out a new family
It's hard to believe this pretty girl was found wandering the streets in Annandale! Flea is a young lady, about a year and a half old, and still has some kitten spunk to her! She is such a sweet girl and a true Tails High kitty because her tail is always straight up in the air like she has a spring in it. She's truly a beauty inside and out with a great personality.
---
Lily, Female, 1 1/2-2 Years Old
checking out a new family
Lily's tale is sadly not an unusual one. A happy little kitten with a happy home, until her human dad lost first his job, and then his home. So Lily is now with Tails High, hoping to find a new home. This sweet girl scoffs at all bad stereotypes of black cats, considering them to be ridiculous and beneath her notice. She also scoffs at all negative stereotypes of cats in general. She is very gentle and good natured; and gets along with every cat, young or old, that she's ever met. When you call her name she will instantly scamper to your side, purring as she climbs into your lap to be snuggled. Petite Lily has no objections to being picked up and carried – she simply views it as another form of snuggling. If a wand toy is produced she will instantly pounce, tail and whiskers twitching. When left to her own devices, Lily will stay at the window for hours, watching the birds and squirrels outside.
---
Cinnamon, Female, 2 1/2 Years Old
checking out a new family
Meet Cinnamon! This 2 1/2 year old girl was unfortunately surrendered when her family lost their home. She is very playful, full of energy and extremely affectionate. Cinnamon loves to cuddle and sleep with her people which she is clearly missing now. Do you have a place in your heart and home for this sweetie?
---
Athena, Female, 4 Years Old
Inquisitive and outgoing, Athena makes it her mission to carefully guard the house from all intruders, running up to the door to inspect all those who enter. She takes her guard duties very seriously, although she will lose the serious attitude and turn into a furry little chatterbox once she's established that you are in fact the person she was expecting. Athena is an active girl who enjoys playing fetch, chasing or being chased about the house, and even being (gently!) tossed on the couch so that she can jump off of it and come scampering back to you. She would likely accept another cat as a playmate if given a proper introduction, but she also does just find on her own. Athena does startle easily, but then curiosity gets the better of her and she comes back out to play. She can also be found at the window, chattering at the birds or squirrels just out of reach.
---
Icy, Female, 4 Years Old
She is now one of the greeters at her foster home and when visitors arrive she runs to the door to say hello and get some pets. Icy is still working on lap sitting and being held. She must have a cat friend in her new home as she loves having companionship with other kitties and feels insecure without it. She's about four years old and would love to spend many years with a loving family who will help her continue to grow.
---
Momo, Male, 4 Years Old
Momo is a bit like an onion – he has layers. The outer layer that you first meet is shy and easily frightened, which will lead to rapid scampering to the nearest hidey spots. After time though, and peeling back the layers of shyness (a new layer gets added whenever a new person is introduced), you will reach the playful little purr-monster that he really is. Momo adores being scritched behind the years (the activity most likely to induce purring), and you will know that you have truly peeled back all of the onion layers the night that Momo hops up on the bed to snuggle with you at night. Playtime is best when it involves plastic sticks, catnip mousies, paper bags, and empty laundry baskets. This cute little house panther is of the special variety that will go exploring outdoors on a leash and harness – just keep an eye out for dogs as Momo is very frightened of them. Momo has one request for his new person (two requests, if you include that he wants you to protect him from dogs) – he requires a special diet to prevent UTIs. The food is easily acquired, and he's quite happy eating it.
---
"Kitty", Female, 5 Years Old (Estimated)
picture pending
This sweet little cat appeared on her caretakers porch one evening, a place where she has continued to seek sanctuary. Her caretakers recently contacted us and asked if we could help find her a home – the other neighborhood cats beat up on her, and she has lost the sight in one of her eyes. She doesn't actually have a name, but she is friendly and quiet, and absolutely adores being petted. Don't let her appearance alarm you – on a recent trip to the vet she received what is known as a lion cut, due to her fur being horribly matted. But when it grows back in she has beautiful long black fur with white tuxedo markings. If you have a safe place, this little stray would love nothing more than to have a name, a warm bed inside a house, a person to call her own, and an endless supply of pettings.
---
Marco, Male, 5 Years Old
checking out a new family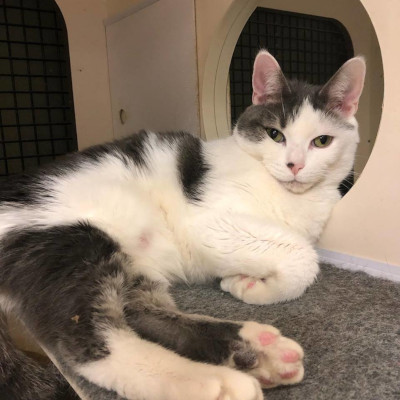 Marco is one of the most loving boys we've seen. Just look at those endearing eyes! This 5 year old handsome man has been a bit sad as his mommy unfortunately couldn't take him with her to her new house that didn't allow cats. Marco has lived with children, other cats and dogs – he loves everyone! As you can see he is also very playful and enjoys time with his ball and mouse to stay busy while he's waiting for a new forever home. Do you have room in your family for sweet Marco?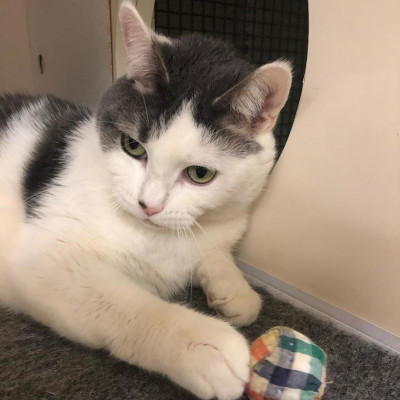 ---