While technically not kittens anymore, these kitties are definitely still kids. Their bottomless energy stores combined with their love of toys make them the biggest stars of our Adoption Events.
---
Flipper, Male, Young Adult
checking out a new family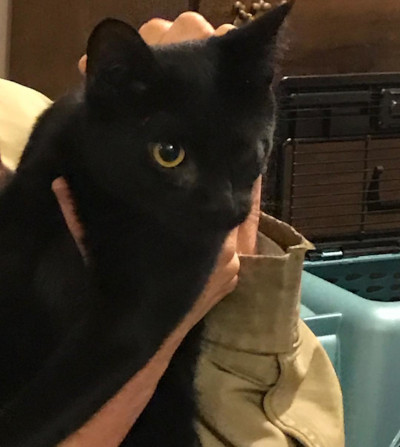 Flipper is mini house panther looking for a home to stalk toys in. He lost an eye as a kitten, but he doesn't notice. Instead he's embraced a rakish, devil-may-care persona. Flipper (who may do an accidental flip in his energetic exploits) loves toys. He will wait eagerly but patiently next to his person for them to bring out the string or feathers so he can chase them; and if a person is not available he will immediately turn his attention to stalking and pouncing on any toys scattered about. The mini house panther also adores other cats, and wants nothing more than to have a feline friend to chase, wrestle, and snuggle with. If you enjoy taking pictures of your cats, be prepared for lots of blurry action shots (unless you've got a good quality camera), or plan to take pictures when he's napping.
---
Ginju, Male, 1-1 1/2 Years Old
Who loves orange kitties? Well you're bound to fall for Ginju! Ginju showed up at a nice lady's house in Alexandria as a kitten and lived outside for the last year but was very friendly with the caretaker. He's a cats cat and makes friends easily. They all want to sleep with him and roughhouse with him. He loves to make big biscuits with his paws. He especially loves chin scratches and head rubs. He's a 1 1/2 year old neutered male ready for his forever family. Please message us if you're interested in meeting this handsome boy!
---
Sunshine, Female, 1-2 Years Old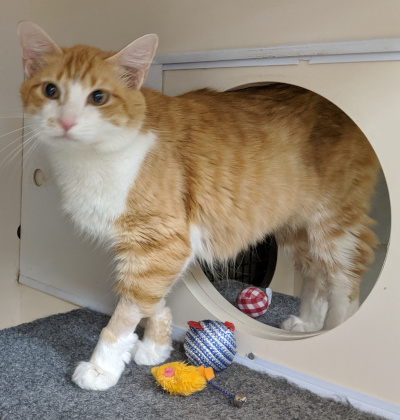 Sunshine had so much to say while getting her picture taken at Petco! "Make sure you get my good side!" This beautiful girl is estimated to be 1-2 years old and has already had a litter of kittens that have been adopted. Now she's ready for her happily ever after with a forever family. Don't you need some Sunshine in your life?
---
Icy, Female, 4 Years Old
She is now one of the greeters at her foster home and when visitors arrive she runs to the door to say hello and get some pets. Icy is still working on lap sitting and being held. She must have a cat friend in her new home as she loves having companionship with other kitties and feels insecure without it. She's about four years old and would love to spend many years with a loving family who will help her continue to grow.
---
Marco, Male, 5 Years Old
checking out a new family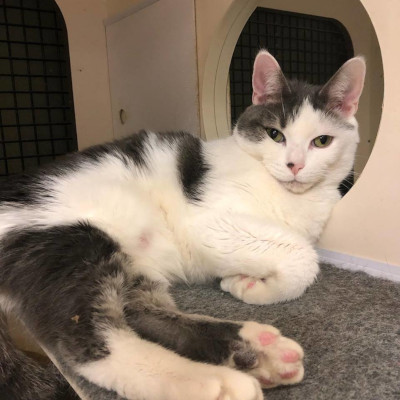 Marco is one of the most loving boys we've seen. Just look at those endearing eyes! This 5 year old handsome man has been a bit sad as his mommy unfortunately couldn't take him with her to her new house that didn't allow cats. Marco has lived with children, other cats and dogs – he loves everyone! As you can see he is also very playful and enjoys time with his ball and mouse to stay busy while he's waiting for a new forever home. Do you have room in your family for sweet Marco?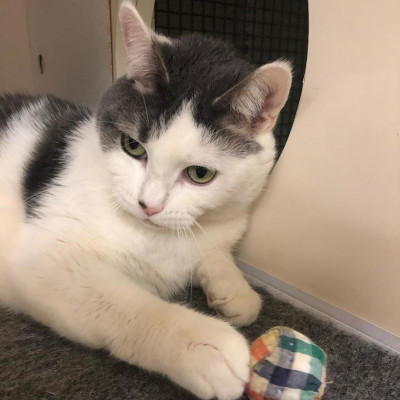 ---
Toby, Male, Adult
Toby has worked hard the last several months to shed some pounds in time for summer! In all seriousness, this handsome guy came to Tails High overweight and with some TLC and good eating habits, he has gotten to a healthy weight and we are very proud of him. He is still waiting for a forever family to come along and make his heart happy. He's a sweet, gentle guy that enjoys being brushed and petted any chance he gets. If you're interested in meeting this love bug, send us a message!
---
Mango, Male, Adult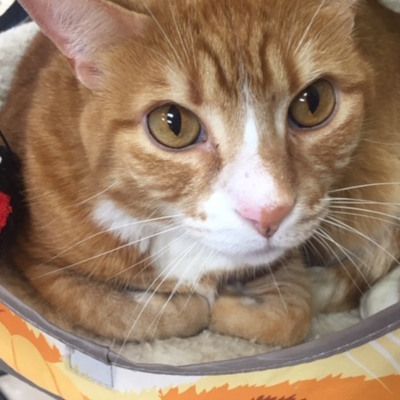 This handsome boy's story is a tough one but he's not letting that keep him down. Mango was adopted from Tails High as a kitten and came back to us 7 years later after his human mommy lost her battle to cancer. How heartbreaking for Mango to lose his most favorite person in the world? He's an absolute love bug and a very gentle soul. He gets along very well with other kitties and loves his belly rubbed. His mommy used to say 'tummies and toes' and he would open a leg and rollover on his back for belly rubs. We hope the right forever family will come along and give him that kind of affection and forever love again. Please message us if you're interested in meeting sweet Mango!
---