Because of the COVID-19 virus we have temporarily suspended our typical adoption activities but certainly want to keep finding our cats loving homes when possible. If you would like to be considered as a Foster to Adopt candidate, please complete an adoption application at /home/adoption-application/. Each application is considered for approval on a case by case basis.
While technically not kittens anymore, these kitties are definitely still kids. Their bottomless energy stores combined with their love of toys make them the biggest stars of our Adoption Events.
---
Juli, Male, Born 2018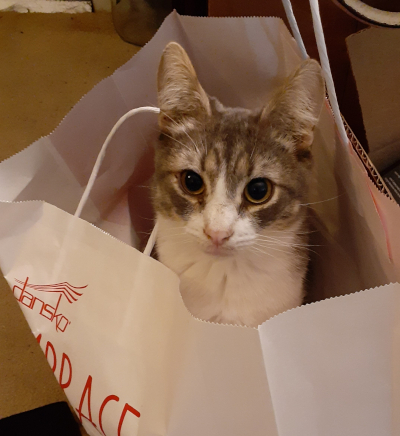 Everyone thinks Juli is a girl but really, it's just that the shelter left the "us" off the end of his name! He's a loveable character who purrs in a second. Juli loves hugs and may even reach for you to hold him if you're close enough to him.
---
Jade, Female, Born 2018
checking out a new family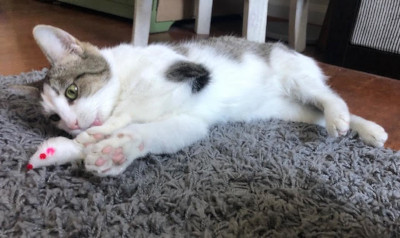 Jade still looks like a kitten but she was born in late 2018. She has a velvety soft coat and a sweet personality. Jade just wants to be loved and, once she trusts you, she'll be your best friend. She loves chasing her toy balls and leaping acrobatically to catch them in midair! Once she tires herself out, she retires to one of her many napping spots to charge up for her next adventure. One of those favorite spots is curled up on your lap but you might also find her snoozing under a blanket wherever you leave one.
Jade will come when you call her, always ready for lots of ear scratches and belly rubs. She will tell you when she wants some love and when you're late to give her dinner but tends to be quiet otherwise. Jade thrives in a home where she can be the center of attention, as other animals can get in her space. If you're looking for a sweet, little lap cat to complete your home, Jade might be the perfect fit!
---
Tanki, Female, Born 2019
Adopted by foster family
Tiny Tanki is still awaiting her forever family to come along. She is 8 months old, super sweet and silky soft! Her brown tabby markings are quite unique and beautiful. Tanki gets along well with other cats and would enjoy having a cat friend in her new home to play with. Please message us if you're interested in meeting Tanki!
---
Stormy, Male, Born 2019
Adopted by foster family
The family that adopts Stormy sure will be lucky! Stormy is the epitome of a happy boy and is so deserving of a loving home to call his own. He enjoys the company of other cats and is super playful – in fact, we would love for him to join an existing cat family or be adopted with another kitten or cat to play with. Wouldn't it be great for Stormy to know that no one believes in superstitions like "black cats are bad luck" and find his forever home on this supposedly unlucky day? Let's make his dreams come true! Please share Stormy and contact us if you're interested in meeting this 8 month old love bug!
---
Tinee (Male) and Pink (Female) – Born 2019
adopted by their foster
Believe it or not, these are two different kitties! This brother and sister duo is Pink (female) and Tinee (male). These house panthers are 11 months old, very playful and super sweet! They are siblings but do not need to be adopted together. They were the first kittens we took in this last kitten season.
---
Miri, Female, Born 2018
Miri is short for miracle, the name she was given at the shelter, and she is a very unique, pretty girl. She's about four months or so and because she's a kitten needs a cat friend in her new home. She's a very sweet girl and enjoys being petted and spending time with her good friend Copper and the two of them could make a good pair in a new home! Please message us if you're interested in meeting this beautiful girl.
This is a cute photo from when she was a kitten but she about 2 now.
---
Billie Holiday, Female, Born 2018
adopted by her foster
This sweet girl is just about 2 years old. She is well behaved and rather independent. She loves to play with toys, laser pointers, and her people! She doesn't tolerate other cats very well and would be happiest on her own. We are not sure how she is with dogs and small children. If you are interested in making her a permanent member of your family, please fill out an adoption application on the Tails High website. To see more pictures, you can view her instagram page @novafosters – feel free to message the account if you have any questions. We are looking forward to finding her forever family!
---
Sasha, Female, Born 2018
checking out a new family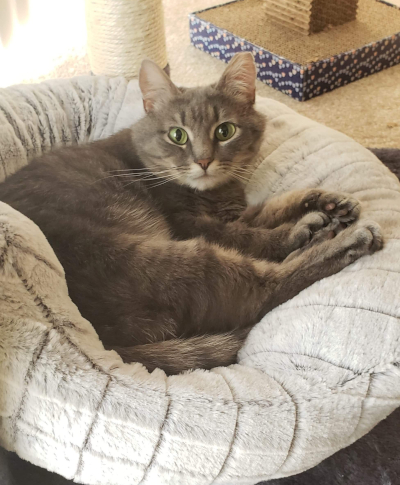 Sasha is a beautiful gray tabby who is shy at first, but has a love of attention that makes her come out of her shell. After she warms up with some gentle encouragement from you, she'll be sleeping at the foot of your bed or on you every night! She is very playful, and will bring you toys to show you how wonderful a hunter she is. Sasha would be great as an only cat, but will warm up to other cats given an adequate amount of time to get adjusted. She also has an array of incredibly cute meows, some of which are to instigate immediate petting. She's usually very calm when not playing or wanting pets, and likes to sleep in a tucked away place for her daily catnaps. Otherwise, she's interested in being in the same room with you! She's very sweet, very communicative, and very ready to find her forever home! Sasha is just under 2 yrs old.
---
Icy, Female, Born 2014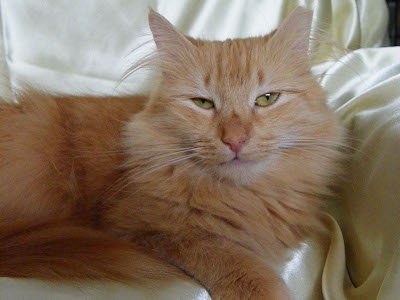 When visitors arrive at their foster home, Icy and Stella often run to the door to say hello and get some pets but Icy is still working on lap sitting, being held, brushed, and being a nice girl all the time. She and her long-time friend Stella would love to go to a new home together. Icy is a very pretty girl who is not a good first cat and will not do well with children or dogs. Icy would love to spend many years with a cat-experienced loving person or family who will help her continue to grow. She came to Tails High in 2014 when she was about six months old.
---
Stella, Female, Born 2014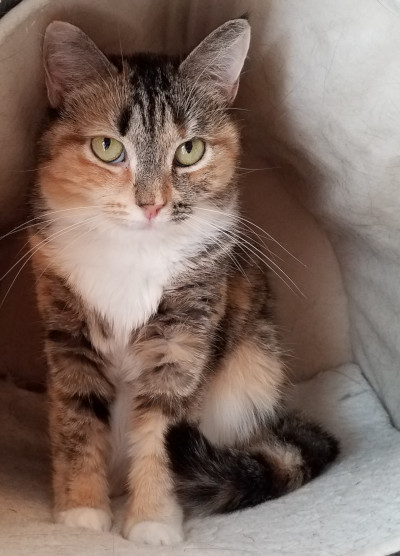 Stella came to Tails High in 2015 with her babies. She was a very scared girl and it took her quite a long time to warm up and learn to trust us. She's now a sweet girl who can still get scared in new situations but she also may come and ask for pets or hugs or she may join you in bed as you're waking up. Stella is good friends with Icy, they greet visitors together at the door they'd love to go to a new home together. Stella is not a good first cat and won't do well with children or dogs.
---
Sharlot, Female, Young Adult
Adopted by foster family
This beauty was a scared stray just a couple months ago. She was found at a local feeding site. Sharlot would be ok with another friendly cat who won't challenge her and she'd be happy as your only special girl. We do not recommend placing her in a home with children.
---
Mister Kitty, Male, Young Adult
checking out a new family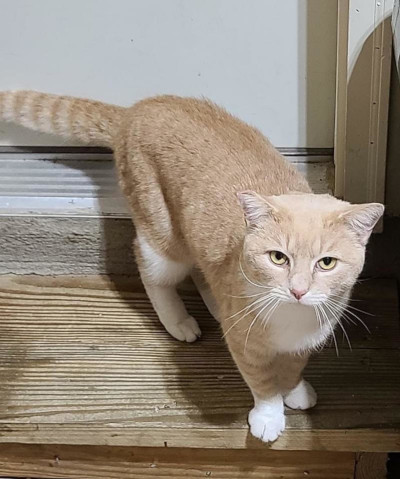 From a true alley cat down and out with a horrible injury to an affectionate guy who wants all of the love he can get; his journey has been an amazing one! Mister Kitty came to Tails High after building trust with one of our volunteers for several months as she fed him diligently and tried her best to get him to come inside. One day Mister Kitty showed up for dinner and he was visibly injured, barely able to walk and holding his battered paw up close to his chest in pain. It wasn't long before he was (rather willingly) trapped and given the veterinarian care he needed. Mister Kitty healed beautifully and started making strides towards trusting humans and learning what it was like to be a house cat. After lots of love, chin skritches, hunting catnip-stuffed mice and meeting other spoiled kitties who live indoors, he is officially ready to find a forever family of his own.
Mister Kitty would probably do best in a quieter home without small children or dogs. He would be fine as an only kitty or with an easy going and playful cat friend. Let's find Mister Kitty the forever he deserves!
---
Gracie, Female, Born 2011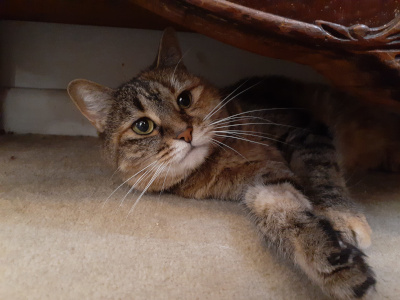 Gracie was a Tails High kitten in 2011. She came back to us because she and her sister weren't getting along anymore! Gracie is a shy girl when she first meets you but then she'll turn into a purr machine! She loves to play with stuffed mice and the brush is her friend. Gracie will do best as an only cat without children or dogs.
---